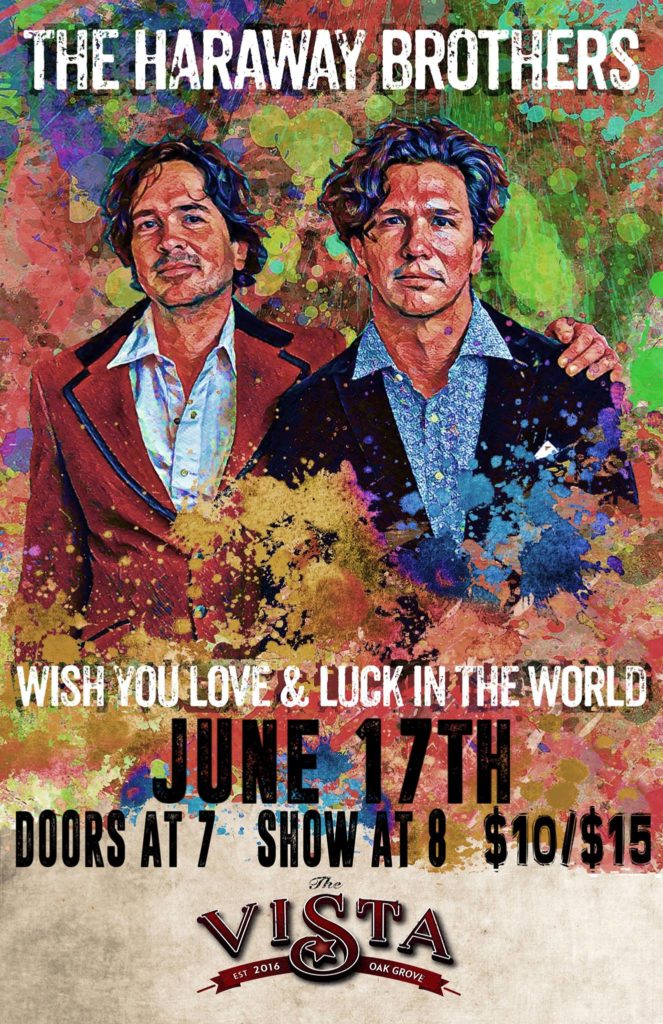 On Saturday, June 17, Will & Lee Haraway, who founded the great Atlanta rock 'n roll band, The Sundogs, will celebrate their debut record together, titled
The Haraway Brothers Wish You Love & Luck in the World
at the fantastic, ornate Vista Room in Decatur, GA.
The show starts at 8 PM with a set from the Bradley Cole Smith Band and then the Haraway Brothers come on at 9 PM, doing every song from the new album, plus some Sundogs tunes and some fun choice covers. Following that set, both bands will take the stage together for a Thank You For Coming set of the danciest Grateful Dead tunes in their entire catalog. It will be a huge night of music!

Released on May 5, The Haraway Brothers' Wish You Love & Luck in the World is exactly what the title describes, a sincere wish and a shot of good, positive vibes for everyone that lets music into their ears and hearts. Smart, funny and occasionally sad songwriting is buoyed by brilliant brotherly harmonies, heartbreaking pedal steel guitar and searing guitar leads from Benji Shanks (who also produced the album) that would make the late great Waylon Jennings cry. If you're on board with Jason Isbell, Sturgill Simpson, Ryan Bingham and BJ Barham, The Haraway Brothers Wish You Love & Luck in the World will be an instant addition to your listening universe. For more information on the new album, visit www.harawaybrothers.com.