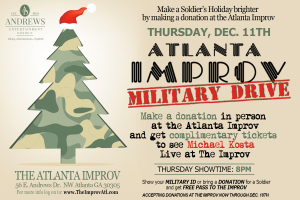 Through December 18th, anyone who brings military provisions to the Atlanta Improv for those serving overseas during the holidays will receive two free tickets to any non-special Improv event through December 30th, 2015. Suggested donations include DVDs, books, magazines, board games, cards, energy bars, socks, workout clothes, undershirts, deodorant, candy, cigarettes, and more. Additionally, military personnel and their families also have the opportunity to see the Michael Kosta show on Thursday, December 11th 8pm at no charge with valid military ID.
"With a military boyfriend who is deported for a year, I understand how hard it is for him to live without day to day necessities," said organizer Sarah Spicer. "I started this drive to do something for the men and women that serve our county to make their holidays a little brighter."
The Improv was founded by Budd Friedman in New York in 1963 and has the Who's Who of American comedy. The Atlanta Improv Comedy Club & Dinner Theatre features national touring comics as well as Open Mic each week. Upcoming acts include Michael Kosta 12/11-12/13, Norm Macdonald 12/18-12/20, Reformed Whores 12/26-12/27, Owen Benjamin 12/31 & 1/2 -1/3, Brian Posehn 1/8-1/10, Harland Williams 1/22- 1/24, Sebastian Maniscalco and 1/29-1/31.
Donations will be accepted at 56 E Andrews Drive NW Suite 12 or at the Atlanta Improv during normal business hours. For more information about the military drive and a full calendar, visit www.theimprovatlanta.com.