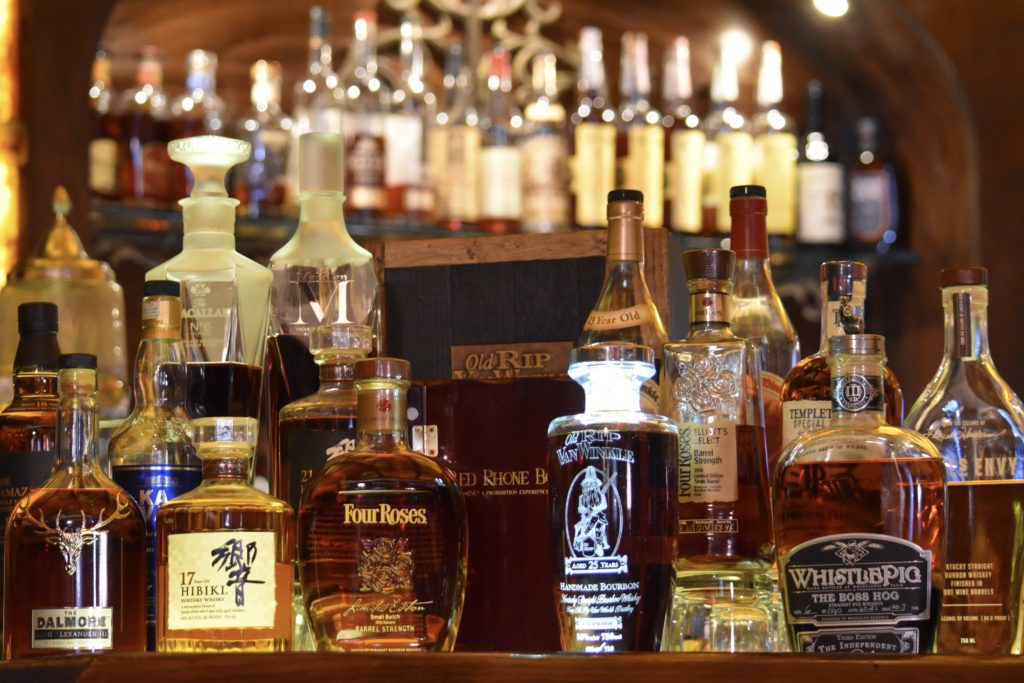 Whiskey connoisseurs looking for fine cocktails can stop their search at Red Phone Booth in downtown Atlanta. This speakeasy offers over 180 whiskeys including an extensive rare bourbon, whiskey, scotch and Japanese whisky selections including Yamazaki (up to 18 year), Hibiki (up to 21 year), the Macallan 1824 series, the entire Buffalo Trace Antique Collection, and Pappy Van Winkle (10 year up to 25 year). Some of the most notable spirits available for tastings on a daily basis are the Macallan 1824 flight which includes 1/2 ounce pours of the Macallan Rare Cask, Reflexion, No. 6 and the M as well as the Pappy Van Winkle flight featuring the Old Rip Van Winkle 10 year, Van Winkle Special Reserve 12 year, Pappy Van Winkle Family Reserve 20 year, Pappy Van Winkle Family Reserve 23 year, and the super-limited Old Rip Van Winkle 25 year.
"We are also known for our monthly tasting events that have included Angel's Envy hosted by Master Distiller Wes Henderson, Whistle Pig with Boss Hog and The Macallan 1824 Series hosted by Raquel Raies. Our upcoming tastings will feature Four Roses Master Distiller Bill Elliot and Pappy Van Winkle's President and third-generation whiskey man Julian P. Van Winkle III," said co-owner Stephen de Haan. "At these exclusive events, guests not only get to taste through the flight of whiskey, but also engage and learn the spirits' history from key leaders in the industry."
Located in the iconic Dailey's building in downtown Atlanta, Red Phone Booth is a prohibition experience featuring classic turn of the century craft cocktail selections such as Sazerac, Old Fashioned, and Boulevardier. Red Phone Booth makes the experience even more authentic with hand chipped double reverse osmosis ice for the cleanest purest ice showcased with three Taisin ice molds, two for spheres and one shaped like a diamond. In addition to all juices squeezed fresh daily, there are several house smoked cocktails on the menu that use mesquite or hickory wood chips bringing intense flavors to the smoky drinks. Featuring an extensive cigar program with over 100 cigar selections in the walk-in humidor, strict measures are taken to keep the air quality of the space clean. Additionally, it is the exclusive environment with wing back Italian leather sofas featuring triple lumbar support that maximizes imbibing enjoyment. Red Phone Booth features small plates such as fresh seafood, carpaccio, Neapolitan pizza and house made desserts. Guests must know the code to enter through the antique London red phone booth secret entrance.
For interviews, photos, press kit or a complimentary media visit, contact Lorrie Dixson Griggs of Eskimo Advertising at
lorrie@eskimoadvertising.com
. More information about Red Phone Booth, memberships, events and the dress code, can be found at
www.redphonebooth.com
.