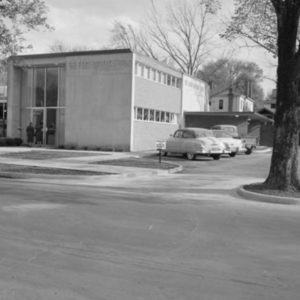 Vintage Cafe will be a purveyor of only the finest products in its new coffee shop and retail store that will open in early fall. Stumptown Coffee will be the signature brand served as it is not only one of the best coffee roasters in the U.S. but a like minded company also focused on the community and providing the best product which Montgomery deserves. Blends such as the "Hair Bender" and "Hollar Mountain" as well as seasonal single origin varietals will be carried. There will also be hot and iced teas by Steven Smith Teamaker, a company that procures and blends teas of outstanding quality and freshness. Customers can also shop the retail store for an array of blends, produce and honey from local farmers, Dak's Spices, and pickles from Bern Farms in addition to finding accessories and gifts including ceramics from Earthborn Studios.
"Vintage Cafe will be a welcoming community spot where patrons can unwind by enjoying premium coffees, teas, espressos, cappuccinos and hot chocolate as well as grabbing a healthy alternative for a quick bite of lunch," said Executive Chef Eric Rivera. "I am creating a menu that will feature healthy options for breakfast and lunch including fresh salads, baked goods, grilled paninis, along with grab-and-go items."
Vintage Hospitality Group is set to bring Vintage Café to the Old Cloverdale neighborhood in the former Regions Bank building located at 416 Cloverdale Road. Vintage Hospitality Group's team of Proprietor Jud Blount, Executive Chef Eric Rivera and General Manager Chase Brown have 45 years of combined experience in the restaurant and hospitality industry. While Vintage Hospitality Group's flagship restaurant Vintage Year is a fine dining establishment, Vintage Café will be a coffee shop, daytime eatery and retail store. Open daily from 7am – 5pm, Vintage Café will offer indoor/outdoor seating, a drive-thru and walk-up window for both specialty coffee, tea and a variety of food choices. Vintage Hospitality Group is dedicated to providing guests with the finest culinary selections, premium coffees, specialty teas, outstanding wines and spirits along with excellent customer service.
For additional information, interviews or photos, please contact Lorrie Griggs of Eskimo Advertising at lorrie@eskimoadvertising.com. For more information about Vintage Hospitality Group, visit www.vymgm.com.