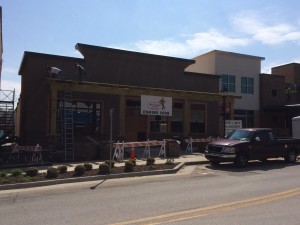 Decatur, Alabama, April 9, 2014 - Moe's Original Bar B Que is proud to announce they will be opening a new Decatur location in early May at 202 East Moulton Street. Famous pit master Pauli "Choppy" Mitchell will serve-up the award-winning Alabama-style BBQ with all of the down home fixins in a family-friendly, yet fun atmosphere daily from 11am-10pm. The full premium bar will serve frozen concoctions including the famous Bushwacker and Moonshine Margarita, Southern-style cocktails, wine and plenty of craft beers on tap and will even stay open until midnight on Thursdays through Saturdays. Located in the Downtown Decatur Arts & Entertainment District next to the historic Princess Theatre, there will be occasional live music on the weekends  that will range from Southern rock and blues with an emphasis on the Muscle Shoals and North Alabama music scene.
"Downtown Decatur is a natural fit for Moe's Original Bar-B-Que and we are excited to be a part of the old town style with a fresh vibe," said co-owner Mike Ellis. "The Arts & Entertainment district was attractive to us as well as the historic Princess Theatre, the Arts College, 3rd Friday and future projects planned for the area."
The newly built, fast casual restaurant is 3,000 square feet and will seat approximately 100 people. The exposed spacious dining room has large windows and roll-up garage style doors that open to a 500 square feet covered front patio with bar service overlooking 2nd Ave. Wanting the location designed with a rustic theme, reclaimed wood and large timbers were used throughout the restaurant and bar while historic bricks make up the back bar.
With two other successful locations in Huntsville at Jones Valley and Village of Providence, owners Mike Ellis and Chris Clowers knew Decatur was the next logical spot after hunting for the perfect space. Named one of the Top 10 Rib Joints and BBQ Chains in America, Moe's Original Bar B Que has 29 other locations in AL, CO, FL, GA, ME, NC, OH and TN. The popular restaurant features a Southern soul food revival with pulled pork, ribs, wings, turkey and chicken smoked over hardwood served with two unique sauces as well as southern favorites such as fried catfish and shrimp sandwiches.
For interviews, photos, press kit, menus or a complimentary media tasting, contact Lorrie Dixson of Eskimo Advertising at lorrie@eskimoadvertising.com. For additional information about Moe's Original Bar B Que, visit www.moesoriginalbbq.com.