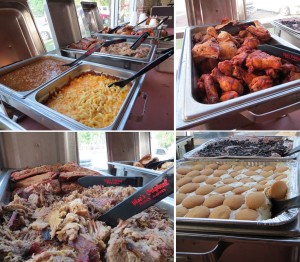 Moe's Original Bar B Que will start smokin' its award-winning Alabama-style BBQ in Portland at 209 Western Ave in late September. Conveniently located between I-95 and I-295 on Western Avenue near a large number of businesses, the new fast-casual dining option will be open daily with distinctive menu selections and home-style sides without breaking the budget. The family friendly restaurant will also feature signature Haul-It-Home packs for families to enjoy as well as full service catering for the greater Portland area.
Set up for counter service, Moe's Original Bar B Que will also have a 12 seat, full premium bar which will be perfect for folks wanting to unwind after the workday. In addition to the bar, seating for 60 will include two booths, several low-top tables and a couple of high-top bar tables.  There will also be a patio for outdoor dining.
"I am really excited to bring Moe's Original style of BBQ to Portland where we realize the bar is set high," said owner Dewey Hasbrouck. "Our consistent great food, Southern hospitality, speed of service, and lower price point will add a slightly different dining out experience to the existing food market."
Recognized with many awards, Moe's Original Bar B Que has been named one of the Top 10 Rib Joints in the U.S. by Relish and Top 10 BBQ Chains in America by Daily Meal and USA Today. Years after learning to fire roast meats in Tuscaloosa, Alabama, Mike Fernandez, Ben Gilbert and Jeff Kennedy discovered Shared passion for BBQ and founded Moe's Original Bar B Que in Vail, Colorado in 2001. The popular restaurant serves up a Southern Soul Food Revival with not only fresh from the pit BBQ but down home sides and desserts made from recipes passed down for generations.
For interviews, photos, press kit, menus or a complimentary media tasting, contact Lorrie Dixson of Eskimo Advertising at lorrie@eskimoadvertising.com.For additional information about Moe's Original Bar B Que, visit www.moesoriginalbbq.com.