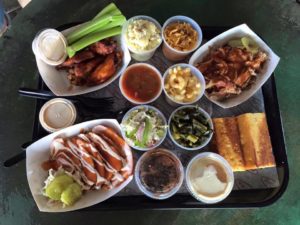 With a prosperous location already in Pawleys Island, Moe's Original Bar B Que will bring its Southern Soul Food Revival to Georgetown in mid-April at 919 Front Street beside the Harborwalk. Catering to locals and visitors alike, lunch and dinner will be prepared fresh daily from 11am-9pm. There will be plenty of table seating in the restaurant, on the deck, front sidewalk and in the back private event area as well as along the 60 foot long bar. Moe's Original Bar B Que will also offer a full selection of adult beverages plus 16 TVs, pool tables, dart boards, happy hour, and live music as well as an array of activities for Sunday Fundays. While the new eatery is in a historic spot located in an old brownstone type building, it still will have the familiar traits of a Moe's Original Bar B Que with a beach/harbor vibe.
"With so many regulars and catering orders already coming from Georgetown, customers kept asking me to add another local restaurant so they wouldn't have to drive down the highway to Pawleys Island for their favorite BBQ and Southern sides," said Moe's Original Bar B Que operating owner Meg Lonon. "As Georgetown is on the rise, I am excited to be a small part of the future in such a beautiful area to live, work and play."
In 2014, Meg Lonon brought the first Moe's Original Bar B Que to the lowcounty area. Recognized with many awards, Moe's Original Bar B Que has been named one of the Top 10 Rib Joints in the U.S. by Relish and Top 10 BBQ Chains in America by USA Today and The Daily Meal. Moe's Original Bar B Que features award-winning pulled pork, ribs, wings, turkey and chicken smoked over hardwood served along with Catfish and a Shrimp sandwich. Additionally, a daily rotation of traditional, down home sides and house-made desserts are prepared fresh from recipes passed down for generations. In over a decade Moe's Original Bar B Que has grown from a junkyard pit to over 50 successful restaurants in 15 states.
For interviews, photos, press kit, menus or a complimentary media tasting, please contact Lorrie Dixson Griggs of Eskimo Advertising at lorrie@eskimoadvertising.com. For additional information about Moe's Original Bar B Que, visit www.moesoriginalbbq.com.